The Proposal
Isaiah proposed the day after Christmas. After spending the holidays separately with their families, Patricia came home to hear Frank Sinatra playing. She then saw a box. One she opened to find an intricate Disney ornament. A fan of all things Disney, she was delighted and then so surprised as Isaiah knelt on one knee as she found a "Will you marry me?" note hidden inside the ornament. Isaiah said they had spoken of marriage before, so he was sure she knew it was coming at some point. He tried hard to keep the proposal a secret as he made his plans. He really wanted her to be surprised. He thought she might think he would propose in front of their families. But he knew that just wouldn't be them. Being a little bit more private of a couple, he decided to make it a quiet affair.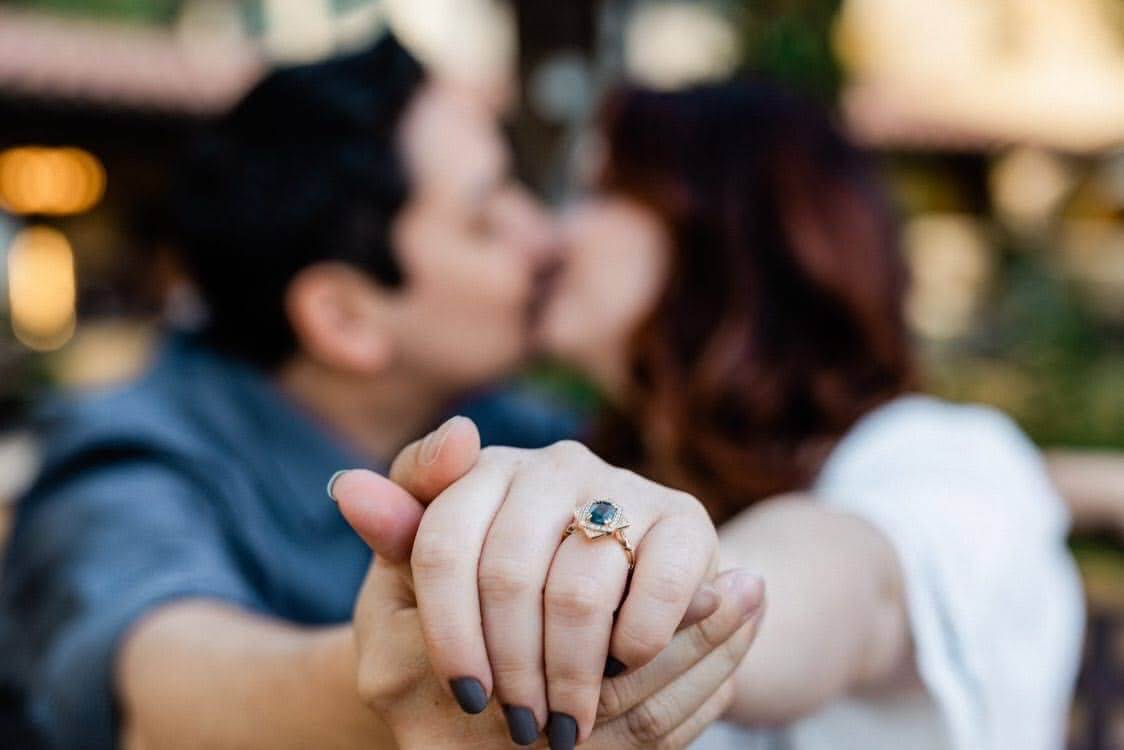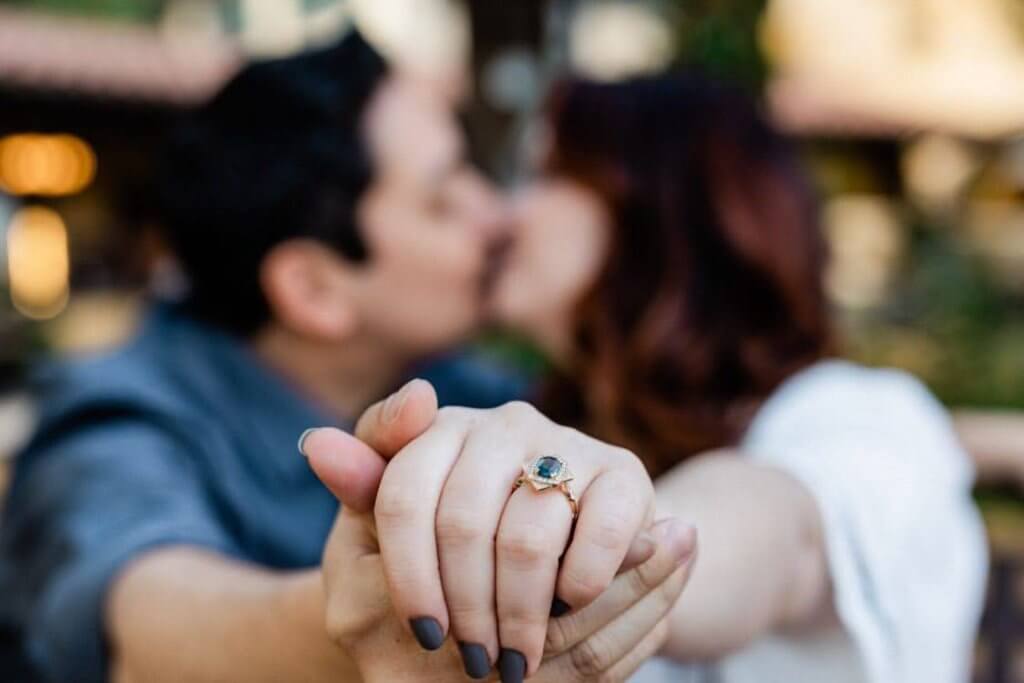 "I was still nervous – you want to make sure it turns out right," said Isaiah.
The Ring
Before the proposal, Isaiah and Patricia designed their engagement ring together. The ring has a teal sapphire center stone and a unique double halo design inspired by the romantic and delicate detail of vintage jewelry. "I really love that we worked on the ring with Jenny together. After it was all done, I realized it looked very similar to my grandmother's ring. I didn't think about that at all when we were designing it," said Patricia. At first Patricia had her heart set on an emerald center stone. Jenny explained that emeralds are not an everyday stone and more susceptible to damage due to their inclusion type. "When Jenny suggested the sapphire, it was game over. I think we both love it because depending on the lighting it constantly changes color." Patricia still got her emerald in the gallery (profile of ring). "I think she read us really well," said Isaiah. "I had a thought but wouldn't voice my opinion and Jenny would say, 'I can tell you have some thoughts.' It helped us be more open."
"She made us feel so comfortable," said Patricia. "It seemed weird at first to have someone help us pick out our engagement ring. Being a woman, Jenny helped me find something I had no idea I really wanted. She asked all the right questions."
"I loved encouraging Patricia to push her fashion into the design of her engagement ring. I wanted her to be really happy with the design so I nudged her to allow the halo to be a bit larger than she was comfortable with at first. I had the feeling that it's what she really wanted and knew she could pull it off," said Jenny Seligmann, owner of Diamonds Forever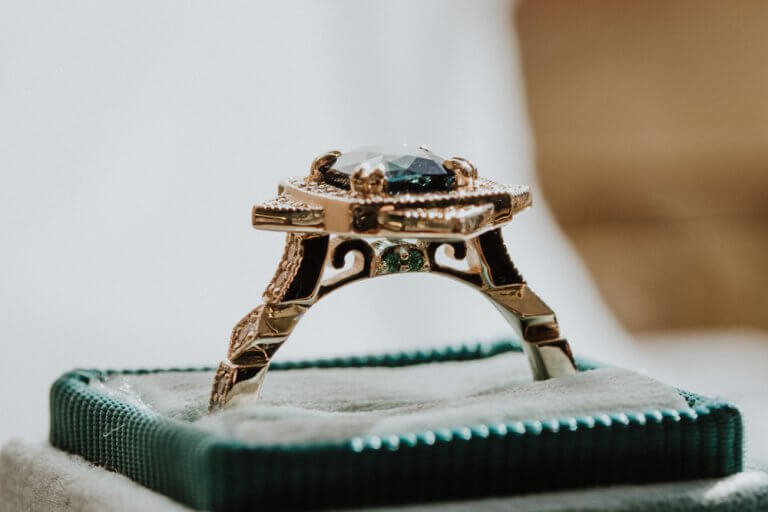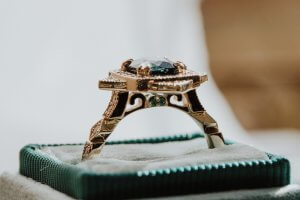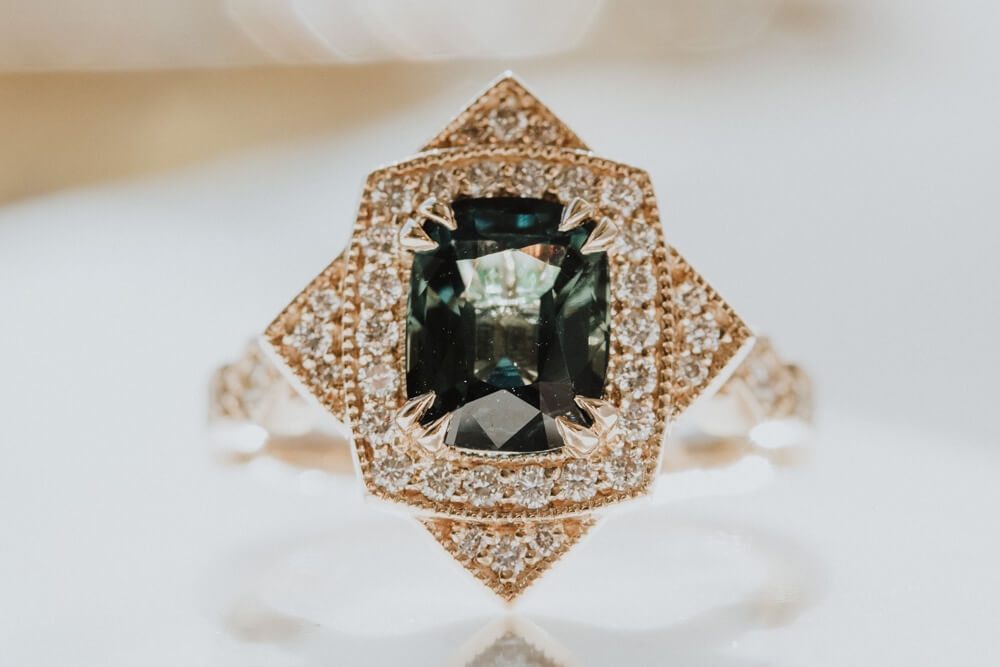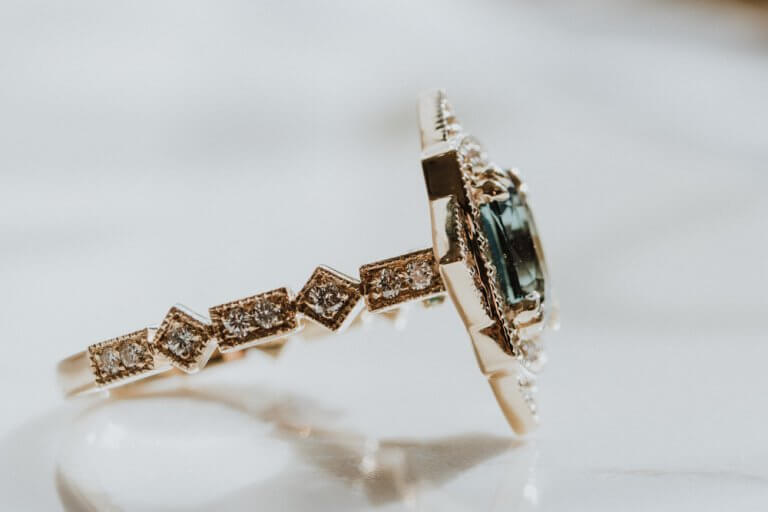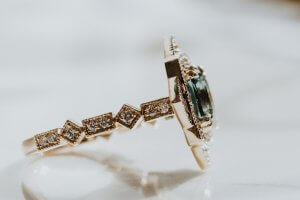 Finding Forever
Patricia and Isaiah's wedding is in March. When asked how they each knew they had found their forever person, Patricia said, "For me, it stood out a lot that nothing was hard with Isaiah. We didn't have to try to figure out the family dynamics, it was all very organic, so easy." "When we started dating, it happened organically, nothing felt forced," said Isaiah. "We had also known each other for a while before we started dating. We had conversations where we talked about what we wanted in life. For me, I realized we were definitely on the same wavelength, we wanted the same things and at the same time. The compatibility was there."
Isaiah loves how they truly are a team. "This is how we work as
a couple and creating the ring was a perfect example of that."


Patricia and Isaiah's Tips
Patricia and Isaiah's tip for anyone planning to propose is to make it relevant to who they are as a couple. "You don't have to make it a big event, sometimes it's the simpler gesture that means more."
Patricia and Isaiah's wedding is in March, 2020. ❤️ Thank you so much Isaiah & Patricia for letting us be part of your love story. What an amazing proposal! Incredible!